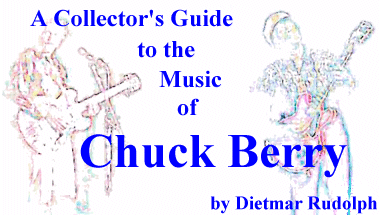 Discography — Bibliography — Blog — Database
Listen to Chuck Berry - Reelin' And Rockin'
By using the widget below you can listen to an excerpt from the Chuck Berry song you were interested in. In case the widget does not show, check the security settings of your Internet browser.
The MP3 player offers a Buy It option you can use to purchase an DRM-free MP3 file of the song if sale of this MP3 to your country is possible. Note that amazon.com sells MP3s only to U.S. customers. In contrast, amazon.de sells to Europe but has a limited selection of titles only. Check here whether Reelin' And Rockin' is available from amazon.de.
Reelin' And Rockin'
Live San Francisco (1967)
Other Variants:
Chess - 1957
Chess Take 1 - 1957
Chess Takes 7/8 - 1957
Mercury - 1966
Live Toronto - 1969
Live Coventry - 1972
Live Wembley - 1972
Live Los Angeles - 1982
Please note that the author of this page is not responsible for contents or proceedings handled by the sites linked.
If you find that the MP3 playback does not work properly, please report this by clicking here: email to site supervisor
---