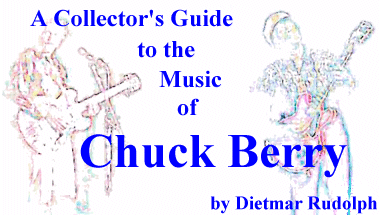 Discography — Bibliography — Blog — Database
The Chuck Berry Discography - All his records, all his songs
This Web site presents you with a complete guide to the music written and recorded by Chuck Berry, one of the fathers of Rock 'n' Roll. This chapter starts a detailed and annotated discography which will guide you through Chuck Berry's recording career.
Between 1954 and today Chuck Berry recorded almost 300 songs, many of them in various versions or mixes. If you're a Chuck Berry fan or if you're just interested in how his work started much of what popular music is today, you'll find yourself looking for albums, CDs and rarities containing yet another song or variant. So did I, more than twenty years ago.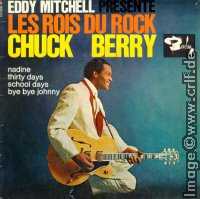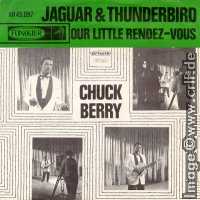 On this site I list and describe all the Chuck Berry albums and CDs you need to get each and every song Chuck Berry ever recorded. Every record or CD is shown by its picture cover. Clicking on the image gives you a larger version. You won't find much about Chuck's biography or other topics not of musical interest. I suggest you have a look at the links section and at the Chuck Berry Bibliography for that kind of information. For specific information about individual songs you must read Fred Rothwell's book, which explains each Chuck Berry recording and the origins of every song.
Chuck Berry's Recording
Chuck Berry's work can be divided into several eras of recording. Each of these periods has a section on its own on this site. Within each section you'll find both the records published during that era as well as songs recorded during that time but released later.
Separated from this chronological order is a chapter on Radio Station Albums and Promotional Records.
Your Chuck Berry Records Collection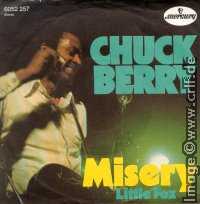 When you start building your Chuck Berry records collection, you will find that some songs and recordings are very easy to get since they are on almost every Chuck Berry record or CD. Others however are almost impossible to find. The Starter's Collection displays the most important Chuck Berry albums to start with.
Completing Your Collection
Today most Chuck Berry albums are out of print. Now and then they get republished, though. For your convenience I maintain a database of reissues. Whereever you see a link on label name and/or catalog number a reissue of this album is still on sale (or at least it was the last time I checked). If you want to complete your collection, simply click on the link. This guides you to a list of prominent Internet record shops which currently stock this item. Another click on your favorite shop directly takes you to the appropriate order routine. Disclosure: For some of the shops listed, I am a member of that shop's partner program. This means that I may earn a few cents from the amount you pay when buying.
Please let me know when reissues get sold out, new rereleases appear or reissues are replaced by different CDs. Any additions, comments and corrections are welcome at cbguide@crlf.de.
Chuck Berry Music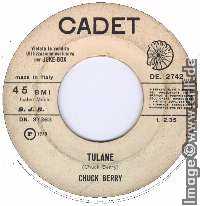 Chuck Berry influenced more than one generation of musicians. Johnny B. Goode alone has been recorded more than 700 times. It is almost impossible to completely list all cover versions of Chuck Berry songs. Therefore I describe just the most important ones at Chuck Berry-related albums (What other artists play).
Rarities and Obscurities
I'm always interested in listening, seeing and buying rare and strange Chuck Berry items. So if you have something to share, contact me at cbguide@crlf.de
Search tips: The Search function works best on complete titles, spelled correctly. Thus searching for Johnny B. Goode will guide you to the corresponding description, while Jonny Be Good probably won't. If you are unsure about the correct spelling or the exact title, just enter a single word like Goode to get the best results.
---