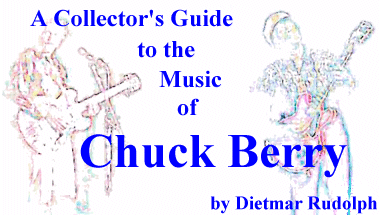 Discography — Bibliography — Blog — Database
The Pre-Chess Era (1926-1954)
Chuck Berry was born October 18, 1926. According to his Autobiography his first recording session took place May 21st, 1955 when he cut Maybellene and Wee Wee Hours for Chess Records in Chicago.
So Chuck was already 28 years old when he first entered a recording studio. Until then he worked in different jobs and of course he played music. Along with friends like his long-time piano player Johnnie Johnson Chuck regularily played in local St. Louis clubs during the week-ends and evenings.
While playing in St. Louis, Chuck added an n to his name so his band would appear as The Chuck Berryn Combo in advertisements and contracts.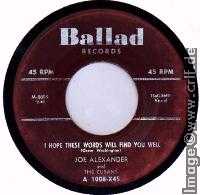 Some time in the late Eighties someone discovered old session protocols of Oscar Washington's Ballad label. In these protocols he found the name of Chuck Berryn playing guitar on two songs published under the name of Joe Alexander and the Cubans.
Up to now Chuck Berry has not acknowledged that his first recordings were not Maybellene and Wee Wee Hours. However, record shops and many collectors today see Oh Maria b/w I Hope These Words Will Find You Well (Ballad AA 1008-X45) recorded August 13th, 1954 and published shortly thereafter as the very first Chuck Berry record. There are also Bootleg reprints of the record available. Oh Maria has been re-published on the CD Cruisin' Classics Volume 1 (MR DJ 101). In 2007 Digimode Entertainment finally released both Joe Alexander recordings as bonus tracks to Chuck Berry Rocks (GTR 39508), a CD otherwise containing early CHESS recordings.
---