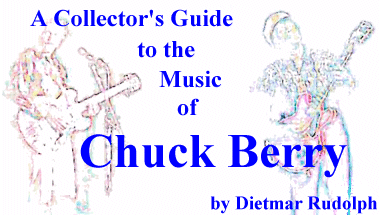 Discography — Bibliography — Blog — Database
The Starter's Collection (What you must have)
When you start building your own Chuck Berry record collection, you should try to get yourself some basic CDs. If you have them, you already own a large number of Chuck Berry's songs. From there on you can try to find the remaining records listed on this site.
First Overview
Chuck Berry's essential output, that is the most successful singles and a few additional important tracks, sums up to approximately 50 to 70 recordings. In former times these had to be divided into songs made for CHESS and songs made for Mercury Records. Nowadays both the CHESS archives and the Mercury stuff belong to Universal Music.
Over the last years Universal either under their own name or under license published several compilation CDs containing Berry's Greatest Hits along with a selection of additional important work. Either of these works fine for a starter.
The Anthology contains 46 of the original recordings from the 1950s and early 1960s in chronological order plus four 1970s hits. The 2-CD-set has purely CHESS recordings, but has a very good sound quality and a nice booklet. It was released in the U.S. in 2000 but is still on sale today. The exact same contents has been re-released in 2005 as Chuck Berry Gold.
If you don't have either of these, you might also check out two similar compilations from the UK. Both The Ultimate Collection and Reelin' And Rockin' have 56 tracks each. While most of the songs are the same, they differ in a handful of recordings. Each includes three Mercury tracks, though not the same.
Second Look
Your career as a Chuck Berry collector starts as soon as you are interested in more than just his greatest hits. So if you are interested in some of the more unusual recordings, here's your best choice:
You Came A Long Way From St. Louis is a nice selection if you want to learn more about Berry. 31 tracks from both his CHESS and Mercury archives form a collection of lesser-known but still important tracks.
Both the hits and many lesser known tracks, though just from CHESS, presents The Chess Box . This 1988 box of six LPs or three CDs/cassette tapes is still on sale. Again there is a nice booklet with details and photos.
Long out of print is a 4-CD set called Poet of Rock'n'Roll (Charly CDDIG 1, 1994). This one definitely contains Chuck's best recordings for CHESS. Also of interest is the 56-page book accompanying the CDs. Here Clive Anderson not only displays Chuck's work and life, he also perfectly comments each and every song on the CDs. If you ever see this set for sale, get it - at almost every price.
Next Step
OK, now you have all the greatest hits and you know some of the better lesser-knowns. Now you will want to get them all. Read through the chapters of this website to learn about the songs you do not know yet. This includes many of the album tracks.
Most of Berry's original albums have been re-released on CD. See the appropriate sections of this site to find and get those. Or get a CD set containing a complete or next-to-complete compilation of Berry's work.
In 2007 Universal has started to fully document Chuck Berry's recording career. A first result is Johnny B. Goode - His Complete '50s CHESS Recordings. And indeed it is complete. All of Berry's released recordings plus many alternate takes and such. Everything up to the end of 1959 you'll find on this 4-CD set. And in early 2009 Universal released the second set. You Never Can Tell - His Complete Chess Recordings 1960-1966 (HIP-O-Select B0012485-02) contains everything from the next six years, that is everything up to 1966 when Berry left CHESS to record for Mercury. As the third part of this series in early 2010 Hip-O Select released Have Mercy - His Complete Chess Recordings 1969-1974 (HIP-O-Select B0013790-02 ). It contains all of the recordings released after Berry's return to Chess in 1969 plus again several previously unreleased songs. All three sets are highly recommended!
Almost the same contents can also be found on Bear Family's 16-CD set Rock And Roll Music - Any Old Way You Choose It (Bear Family BCD 17273 PL, 2014). The Bear Family box misses several of the alternate takes, but in addition to the three sets also contains various live recordings and — most importantly — also Chuck's complete work for Mercury and Atco Records.
Live Recordings
Most of the Chuck Berry live albums and CDs are bad. When starting your collection, you'd better concentrate on the studio recordings. Since the Toronto concerthas been re-released a thousand times, almost any budget CD called Chuck Berry Live will give you the main songs from the Toronto show. A much better but not so often shown performance is the one from the BBC Television show. The 2-CD set below is called Rock and Roll Music (Newsound NSTD208) and contains live performances from different shows including the complete BBC show.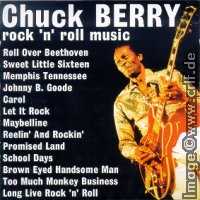 Books about Berry's records and recordings
While this website presents you with a complete listing of all Berry recordings and a detailed description of where you may find them, a website is never as extensive as a 400 page book. If you are interested in all the details about Berry's recording sessions (when, where, why, what) and about Berry's records (label, country, tracks, specific features), you have to get yourself these three books.
Fred Rothwell's Long Distance Information: Chuck Berry's Recorded Legacy (Music Mentor Books, 2001) is the ultimate book for any serious Chuck Berry record collector. This is the book I always wanted to write - and stopped trying when I saw Fred's early manuscripts: All Berry sessions, all the songs, all the session musicians, where to find which song if ever released, and tons of additional stuff. Highly recommended!
While Fred Rothwell's book only shows the most important Chuck Berry records, collectors typically want to know more about the records they own, and the ones they don't. For all these, Morten Reff wrote the The Chuck Berry International Directory, Volume 1 (Music Mentor Books, 2008).Where Volume 1 concentrates on all Chuck Berry records ever released commercially, The Chuck Berry International Directory, Volume 2 (Music Mentor Books, 2008 ) starts with the non-commercial records. In this book you will find all the bootlegs, all the radio station albums, all the soundtracks. But this is only the start of it. In addition this second volume lists all of Berry's appearances in the movies and in TV, all concerts outside the U.S., and all his videos and DVDs. As in Volume 1, Morten Reff not only simply lists the collector's items. He always comments, recommends or criticizes, thus telling you exactly what you need to have and what you can omit easily. Again a Must-Have!
---