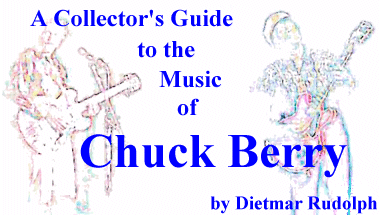 Discography — Bibliography — Blog — Database
Radio Show and Promotional Records
In addition to the commercial Chuck Berry records sold to the public, a number of records exist which were not produced to be sold. Among these records are those given to radio stations to promote commercial releases, but also records specifically produced for radio stations to broadcast. Some of these even contain Chuck Berry recordings not available anywhere else.
DJ Copies of Commercial Releases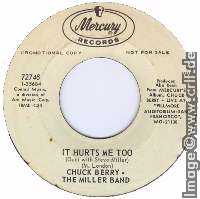 Most Chuck Berry records have been produced in small quantities as advance copies or promotional copies sent to DJs to advertise new releases. Typically these records carry a special, usually black and white label containing messages like "Not for sale" or "Sample copy".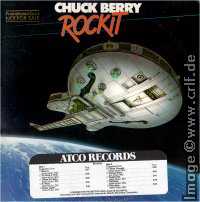 Albums exist in promotional versions as well. Again these usually carry a special label. In addition the album covers of promotional samples often include a corresponding mark like the one in the top left corner of the album shown. Also note the added sticker to let the DJ easily find suggested cuts.
In almost all cases, the promotional versions of Chuck Berry records are identical to the commercial versions. A rare exception is the 1979 Atlantic sample to promote the single Oh What a Thrill (ATCO 7203). While the commercial 45rpm record contains the song California on the flip side, the DJ copy contains Oh What a Thrill on both sides, one in stereo, the second in mono, which is surprising for a 1979 release!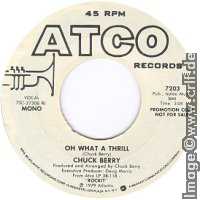 Another interesting item is Chuck's last single before he left CHESS in 1966. CHESS 1963 contained Ramona, Say Yes and Lonely School Days. DJ copies of this single exist. For some reason, CHESS decided to change the record. Thus CHESS 1963 was re-released with the original number but a different flip side: Havana Moon. You would guess CHESS now sent out a new sample containing both Ramona, Say Yes and Havana Moon. They did not! The new sample just contains Havana Moon, the flip side is empty!
Single-sided DJ copies are also known from the UK London label. To allow DJs to play both sides in a row without the need to turn the disk, London sent out the demos in one-sided pairs: One record containing just the A side, the other containing just the B side of the new single. So the two labels shown below are on a disk on their own each, while the commercial release had them as A and B sides.
DJ copies of 45rpm singles usually don't come with a picture cover as they are rushed out of the factory as early as possible. However, in some cases a record company uses this opportunity to push some additional advertizing to the DJs. See the sleeve for the Mercury promo below, which tells the DJ that this is the record wished for by industry critics. It was wished for only by industry critics seemingly because the single itself was never released and sold in stores.
In Japan even a DJ single was produced and distributed which by intention did not exist as a commercial record. The record shown contains two songs from the live album Chuck Berry Tokyo Session (EMI / East World WTP-90072, 1981). The 45rpm single was never sold commercially but only sent to radio stations.
Another promotion-only single has been sent to radio stations in 2017 by Dualtone containing just the single song Big Boys from their upcoming album CHUCK. In the UK the album was distributed by Decca. They created three PR singles: one for Big Boys, a second containing an edited version of Wonderful Woman, and a third containing Lady B. Goode. In addition their not-for-resale CD of the album contained digital watermarks making it possible to uniquely identify every CD, song, and copy thereof.
Jukebox Releases of Commercial Records
From Italy there are some not-for-sale records which seem not to be produced for radio use, but to be used in jukeboxes only. At least this is what the two Italian singles below say. CADET 2742 is the same as the original US single Tulane b/w Have Mercy, Judge and as such could be a normal DJ copy. Durium 7811 however is different. It contains the 1972 live version of Reelin' and Rockin', though shortened to 2:45 minutes. The usual single edit is approximately four and a half minutes long. And in contrast to the commercial single this record has Don't Ha Ha by Casey Jones on the flip side. This indeed does not look like a DJ Copy but as if produced exclusively for jukebox use.
Dedicated Promotional Records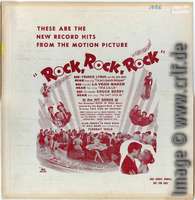 Promotional records were made not only to promote the records themselves, but also to advertise movies and other kinds of goods or services people pressed records. The records were then given to radio stations for airplay.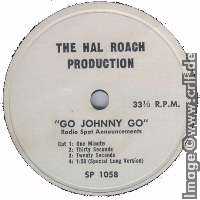 The record to the left was a promotional item sent out to DJs all over America to promote the movie Rock, Rock, Rock starring Alan Freed and containing Berry performing "You Can't Catch Me". This was the very first long-playing album containing a Chuck Berry number. Since the artists performing were under contract to different recording companies, it was not possible to issue a common soundtrack album. Alan Freed therefore created this sampler, which was then sent out by the movie company DCA to 600 selected movie theatres which in turn gave them to local radio stations to play. Details about this very rare record are in the blog.
The record shown to the right is even more rare: a 10 inch single sided pressing containing radio spots to promote another rock movie Go Johnny Go. The record contains similar radio spot announcements of different lengths: 20 seconds, 30 seconds, one minute and a special long version of a minute and a half. Together with an announcer advertising the film you hear some extracts from the soundtrack including Chuck's Johnny B. Goode.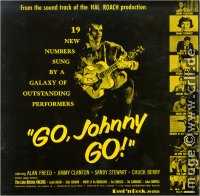 Again for the movie Go Johnny Go another promotional soundtrack album was created. Included were Chuck's Go, Johnny, Go! (this is the standard version of Johnny B. Goode, not the one used as the title track in the film, which has an overdubbed orchestra), Memphis, Tennessee, and Little Queenie. In addition the album contains the other songs performed in the film, including some which were never released commercially at all. The image shows a 1980's Australian re-release (Reel 'n Rock JN 5705) of this album.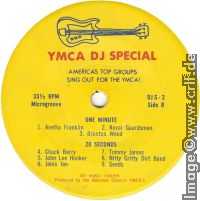 Both of these dedicated promotional records contained the usual Chess recordings. In 1967 Chuck Berry was recorded for another DJ record. This one contains radio spots to promote the Y.M.C.A. Many artists, such as Aretha Franklin, the Four Tops, and Sonny & Cher supplied radio spots lasting between twenty to sixty seconds. Chuck Berry's contribution is hidden at the end of side B with a twenty second promotion of the Y's pool. This spot was re-released on the CD The Sheik of Chicago (Smashing Pumpkin Records PMK-1126, 2016).
In 1973 the National Association of Progressive Radio Announcers (NAPRA) got involved in an anti-drug campaign organized by the Progressive Broadcasting Foundation. Part of this "hard drugs awareness movement" was a series of television and radio messages programmed by concerned broadcasters. NAPRA talked a large number of famous rock musicians to record small 30 to 60 second radio spots telling to "get off" hard drugs. Among these were B.B.King, Ringo Starr, Stevie Wonder, Frank Zappa, members of the Hollies, Chicago, Eagles, Grateful Dead, Sha Na Na, and many others including the Star Trek crew. The 47 spots were distributed to NAPRA members as a not-for-sale LP titled Get Off (NAPRA-1).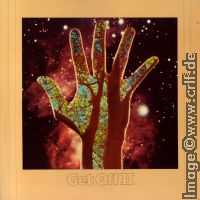 In 1975 NAPRA repeated this with another set of 51 radio spots distributed on a second LP titled Get Off II (NAPRA-2). Now the participating musicians included David Essex, Jose Feliciano, Steve Miller, Linda Ronstadt, members of Yes, ELO, Fleetwood Mac, Deep Purple, and many others. Also included is cartoon speaker Mel Blanc performing as Bugs Bunny, Daffy Duck, and Porky Pig. And included is a 30 second spot by Chuck Berry. The LP came with a 20 page full-size booklet entitled "Hard drugs awareness movement - Get Off". The booklet explains the campaign, displays photos of all artists involved and a huge thank-you list of sponsors. The two NAPRA records also have been transcribed to a CD and given to visitors of a NAPRA meeting appr. 2003.
Another record produced only as a distribution tool for radio spots was created by the U.S. softdrink company Dr. Pepper in 1977. For a series of radio and TV commercials they had several artists record a Dr. Pepper promotion song, all using the same lyrics but their own musical style. One of the artists envolved was Chuck Berry. His 60 second untitled commercial is a complete rocking song (actually 1:11 minutes long), studio-recorded with full band and the typical Berry intro. The album "Sights and Sounds of Dr. Pepper" (no label, no number) has a red-label and a blue-label side. The red-label side has the radio commercials by Chuck Berry, Lynn Anderson, The Mills Brothers, B. B. King, Hank Snow, Teresa Brewer, Dana Valery, and Gladys Knight & The Pips as well as six soundtracks to TV commercials. The blue-label side has the soundtracks of short films showing the creation of the spots. It starts with a 1:38 minute interview with Berry followed by the same song as on the red-label side, though this time starting with a countdown. During the interview Berry talks about who influenced him (Nat Cole, Glenn Miller), what contributed to his success as a super rock-star, and about the taste of Dr. Pepper. Both interview and song can also be found on Bear Family's 16-CD set Rock And Roll Music - Any Old Way You Choose It (Bear Family BCD 17273 PL, 2014).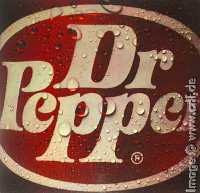 Radio Station Produced Records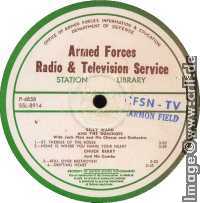 While promotional records were produced by the record companies or the advertising companies for radio broadcast, also radio stations or companies producing radio shows created their own records just for broadcast.
Since the late 1940s the Armed Forces Radio & Television Service supplied transcriptions of shows as well as collections of current hits to radio stations run by the U.S. Forces overseas. The AFRTS used huge 16-inch records which needed special turntables to play.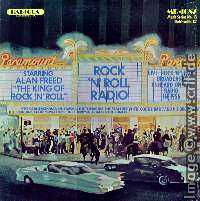 Thanks to Larry Beardslee we are able to show one these very rare AFRTS records containing two Chuck Berry recordings. The side shown is numbered P-4858/SSL-8914. Of the four songs on this side there are two by Billy Ward and the Dominoes followed by two Berry songs: Roll Over Bethoven and Drifting Heart. The flip side is numbered P-4857/SSL-8913 and lists four songs by Earl Bostic.
We expect the record to contain just the CHESS versions of the songs, but we were not able to check due to a missing turntable for 16″ records. There is no exact information about all the records produced by AFRTS. The American Library of Congress owns 125,000 16-inch AFRTS records but has cataloged only a very small portion of it yet. There are rumors about other AFRTS transcriptions of Chuck Berry recordings.
Of main interest are the two famous 1956 live recordings from the Camel Rock'n'Roll Dance Party with Alan Freed. I asked J. David Goldin about these recordings who first released them on his Radiola label in 1978. Goldin said he had received the recordings of 23 issues of the Camel Rock'n'Roll Dance Party from a friend working at AFN Frankfurt who had access to the AFRTS archives there. However he could not say whether the recordings stem from records or tape. His copies, Goldin said, were on tape. However, the recordings already had been edited a lot. Among other things AFRTS had cut out the show sponsor Camel's name everywhere, which must have been in every second sentence Freed had said. The Radiola album Rock'n'Roll Radio (Radiola MR-1087) was a collection of the songs Goldin liked best. For the full story about this show, read this blog article.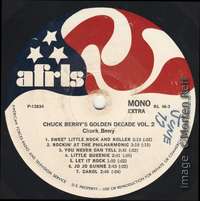 AFRTS transcription records of Chuck Berry recordings are found even as late as the 1970s. The AFRTS record shown contains one side of the Chuck Berry Golden Decade Vol. 2 album. The other side contains a live show by Lee Michaels.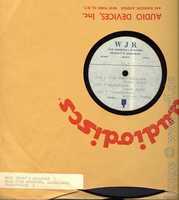 Just like the AFRTS also other radio stations seem to have made private copies of commercial recordings for inhouse use. Here's a record from WJR (The Goodwill Station) of Detroit. Among other artists, this 33 1/3 12″ record, appr. 1956, contains transcriptions of the Chess recordings Maybellene and Roll Over Beethoven.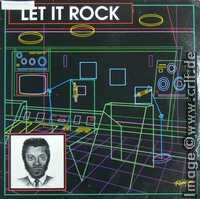 Another radio station produced album is this here. The record Let It Rock (BBC Radioplay TAIR 87059) has a printed cover containing details about each song, liner notes about the artists and even a drawing up-front which seems to show Chuck Berry. There are five Berry recordings, four by Bo Diddley and a few by Clarence Henry, Dale Hawkins, Bobby Charles, and Paul Gayten. The record's publisher is listed as BBC Radioplay Music Library. The back cover includes the note "BBC Radioplay Music is not available to the public". It seems to be correct that the record was not sold commercially as there are very few out there. According to a reader of this site's accompanying blog, Radioplay music was designed to fill the gaps left by the musicians union 'needle-time' agreement. In the 60s and 70s the BBC was only allowed to play a certain number of hours a week of commercially available music. They got around this by playing 'alternate-take' versions, or live versions, or versions available in other countries but not in the UK. These recordings all fell into a different category (non-needletime), and so didn't count, when it came to adding-up the hours of music played (and paid for). The musicians union imposed these rules because they thought that if radio stations played wall to wall records/vinyl, then their members would be out of a job.
Radio Station Shows
A completely different kind of records not available to the public are the so-called "Radio Station LPs". Since the early 1980's the large American radio networks and specialized companies produce complete radio shows licensed to local radio stations who included them in their usual schedules. The shows were delivered on records, later on CDs, which had to be destroyed immediately after broadcast. The radio shows usually lasted exactly one hour including music, announcements and advertising, with some space reserved to allow the radio station to include local commercials as well.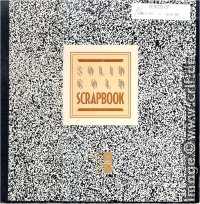 These shows typically were packaged in numbers of five, one for each day of the week. The image shows a box containing five shows produced by the United Stations Radio Network (Unistar) to be broadcast between August 21 and August 25, 1989. The Monday show was titled The Guitarists, on Tuesday it was This Week in 1963, on Wednesday the show was called The Singing Producers, and so on.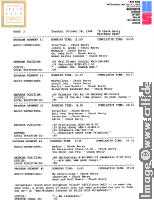 With each show comes a cue sheet telling the DJ when to insert local spots, when to fade in and out, and which segements are included. The image shows a typical cue sheet. [As with every image on this site you can click on it to see a higher resolution version.]
You should not confuse these radio shows with the Cruisin' series of records published by Increase Records. The Cruisin' records do not contain actual radio shows but just fakes showing how 1950s radio might have sounded like. Those Cruisin' volumes containing Chuck Berry songs are often completely wrong. Worst is probably Cruisin' 1961 (Increase INCM 2006) published in 1970 containing Nadine which was recorded in 1964! However, someone in fact noticed this fault and when Cruisin' 1961 was re-released in 1983 (Increase INCR 2006), Nadine was replaced - by a 1969 live version of Johnny B. Goode, taken from the Toronto concert!
There are many radio station albums containing one or more Chuck Berry songs. Often they also contain a DJ announcing or describing it. It is impossible and does not make much sense at all to try to list or even find all these albums.
However, among the shows produced there were a few directly tributed to Chuck Berry and as you will see later in this chapter, there were albums containing Chuck Berry material not available elsewhere. I am trying to find these albums and what they contain, so if you can add some information to this work in progress, please let me know.
Below are radio station albums with shows concentrating on Chuck Berry but containing just the usual records linked by DJ announcements and commercials.
| Title | Air Date | Producer |
| --- | --- | --- |
| Retro Rock - Chuck Berry | Week of 6/21/82 | Clayton Webster Corp. |
| Royalty of Rock: Little Richard/Chuck Berry | 1982 | TM Special Projects version, opening and closing narratives printed on cue sheet only |
| Royalty of Rock: Little Richard/Chuck Berry | 1983 | RKO version, narratives read by Billy Juggs |
| Profile: Chuck Berry | October 17,1986 | Unistar Dick Bartley's Solid Gold Scrapbook |
| Profile: Chuck Berry | October 19,1987 | Unistar Dick Bartley's Solid Gold Scrapbook |
| Profile: Chuck Berry | August 24,1988 | Unistar Dick Bartley's Solid Gold Scrapbook |
Radio Station Shows Containing Interviews
Where it gets interesting for the Chuck Berry record collector is when you look at radio station albums containing more than just the usual hit records.
At the end of 1979 NBC recorded an interview with Chuck Berry. This interview was never released on a commercial record, but there are various NBC radio station albums containing excerpts from this interview. The total interview lasts some 20 minutes, but for the records it was cut into segments from three minutes down to as little as 6 seconds and used between hit records, rarities, and statements from Robert Christgau, Marshall Chess, Bo Diddley, and George Thorogood to build a two hour Chuck Berry Special.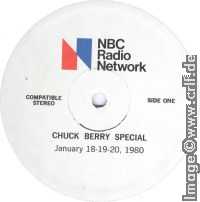 Some of the segments as well as previously unused ones can also be found on other NBC records:
Title
Air Date
Producer
Chuck Berry Special
Jan. 18-19-20, 1980
NBC Radio Network
The Continuous History of Rock and Roll
Show No. 6: Where Rock Began
Nov. 9-15, 1981
Rolling Stone Magazine Productions
The Source: The Fathers of Rock
June 15-16-17, 1984
NBC Radio's Young Adult Network
Rock of your life #13
Fathers of Rock&Roll
1985
NBC Radio Entertainment
Rock of your life #49
Great Guitarists
1985
NBC Radio Entertainment
Another interview, if you can call it that, was recorded by RKO Radio Networks for their Weekly Music Magazine series. Here Chuck makes just a few comments - the whole interview lasts only 17 seconds. It has been used on this radio station album:
| Title | Air Date | Producer |
| --- | --- | --- |
| Weekly Music Magazine: Pop Pioneers | Week of May 22, 1982 | RKO Radio Networks |
As stated above, the Unistar radio network produced two birthday specials for broadcast in October 1986 and 1987. In 1988 they recorded an interview with Chuck which was used subsequently in birthday specials to be broadcast in October 1988, 1989, 1990, and 1991 (now on CD). From a total of just five minutes, segments of this interview as well as previously unknown snippets have been used in many Unistar shows.
Most important of these is the November 1988 issue of Dick Clark's Rock, Roll & Remember because it contains the most complete version of this interview. Below is a list of radio station albums where parts of the interview have been used. I am sure there are others.
Title
Air Date
Producer
A Chuck Berry Birthday Bash
October 18, 1988
Unistar Solid Gold Scrapbook
Rock, Roll & Remember #352: 1964
November 5-6, 1988
Unistar Dick Clark's Rock, Roll & Remember
Meet The Beatles
February 3-7, 1989
United Stations Programming Network
The Guitarists
August 21, 1989
Unistar Solid Gold Scrapbook
A Birthday Salute: Chuck Berry
October 18, 1989
Unistar Solid Gold Scrapbook
The Rock and Roll Hall of Fame Celebration!
January 17, 1990
Unistar Solid Gold Scrapbook
Female Names in Songs
August 10, 1990
Unistar Solid Gold Scrapbook
A Chuck Berry Birthday Salute
October 18, 1990
Unistar Solid Gold Scrapbook
Jukebox Favorites
March 27, 1991
Unistar Solid Gold Scrapbook
Songs About Music
May 17, 1991
Unistar Solid Gold Scrapbook
Jukebox Favorites
May 27, 1991
Unistar Solid Gold Scrapbook
Birthday Salute: Chuck Berry
October 18, 1991
Unistar Solid Gold Scrapbook
Back to Bandstand 1991
April 27-28, 1991
Unistar Dick Clark Back to Bandstand
Rock, Roll & Remember #644
June 10, 1994
Unistar Dick Clark's Rock, Roll & Remember
Rock, Roll & Remember #673: 1969
December 30, 1994
January 1, 1995
Unistar Dick Clark's Rock, Roll & Remember
Rock, Roll & Remember #96-18
May 3-5, 1996
Unistar Dick Clark's Rock, Roll & Remember
Rock, Roll & Remember #97-23
July 5-7, 1997
Unistar Dick Clark's Rock, Roll & Remember
Rock, Roll & Remember #00-20
May 13, 2000
Unistar Dick Clark's Rock, Roll & Remember
Rock, Roll & Remember #04-3
Jan. 1, 2004
Unistar Dick Clark's Rock, Roll & Remember
Rock, Roll & Remember #04-48
Nov. 27, 2004
Unistar Dick Clark's Rock, Roll & Remember
Another interview was used on a radio station album made by Westwood One Radio Networks for broadcast as Rock and Roll Never Forgets - Time Capsules on October 17, 1988. This is not, however, an interview specifically recorded for broadcast, but an extract taken from the Hail! Hail! Rock and Roll! movie. This interview is also used on a bootleg cassette Chuck Berry Interview 10-17-1988 (GFP K0097, 2000).
A second interview segment from the same movie was used for a short 7-minute "Blues Break" created by House of Blues Productions (CBS) for broadcast on April 21, 1994. Berry talks about his influences and the show continues with Louis Jordan's "Blue Night Boogie".
The most recent interview again appeared on a Radio Station album by the Unistar Radio Network. The House of Blues Radio Hour is a weekly show hosted by Elwood Blues, better known as Dan Aykroyd. In his first 2002 show Aykroyd presented excerpts from a tape where he interviewed Chuck by telephone in October 2001. In March 2002 another show was dedicated to Chuck in which Elwood played "on popular demand" the remaining segments from the interview.
Title
Air Date
Producer
House of Blues Radio Hour
Show #02-01
Weekend Jan. 5-6, 2002
Unistar, House of Blues Productions, Inc.
House of Blues Radio Hour
Show #02-09
Weekend March 2-3, 2002
Unistar, House of Blues Productions, Inc.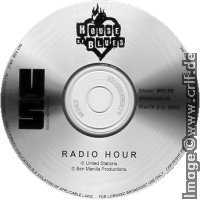 Radio Station Shows Containing Live Performances
The most interesting radio station album with Chuck Berry does not contain any interviews or hit records. Broadcast as part of the CBS Westwood One In Concert series on April 17-19, 1981, this two LP set contains an unpublished Chuck Berry live performance!
The show was recorded in Wolf & Rissmiller's Country Club, Reseda, CA on January 17, 1981. Unfortunately the album contains only three songs: Maybellene, Sweet Little Sixteen, and the usual Carol/Little Queenie medley. This lasts only 13 minutes. The remainder of this album is a concert by George Thorogood & The Destroyers. The Berry segment of this radio album was re-released on the CD The Sheik of Chicago (Smashing Pumpkin Records PMK-1126, 2016), the full recording of the first show can be found on the CD Live! Wolf & Rissmiller's Country Club - 1981 (Rough 40147, 2018). For the full story about this show read the corresponding blog article.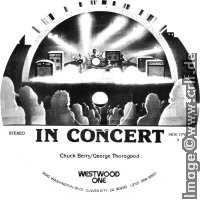 Another radio show containing live performances was broadcast in 2006 to promote the DVD sets of the 1986 Hail! Hail! Rock'n'Roll! film. Tres Hombres Productions (Paul Rappaport, Jym Fahey, Mitch Maketansky) created a one-hour music-intensive radio special called Chuck Berry: Hail! Hail! The King of Rock 'n' Roll. The radio show was distributed by Cahn Media to broadcasters in the U.S. at no cost. As far as I know the show was sent out on individual CD-R media and not as a pressed CD like the commercial pre-produced radio shows from UniStar and the like.
The radio show contains many live segments taken from the birthday concert together with introductions and explanations by director Taylor Hackford. Also some short dialogue segments from the movie can be heard. Interestingly this radio show CD comes with several songs which are not on the official soundtrack album. For more information read the chapter on the birthday concert.
Promotional Records Not For Airplay
All the aforementioned records have been produced for broadcast. In addition to these there are promotional records not intended for airplay.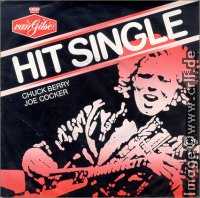 One kind of these records are promotional items given away free to listeners. As part of advertizing campains companies produced records or CDs containing famous songs plus advertizing either on the cover or on the record itself. A nice example is the shown 45rpm EP (Van Gilse 84801). The creator Van Gilse is a dutch sweets company. They make all kinds of candy, including some kind of sirup (schenkstroop). The single was a promotional item for a competition regarding images/drawings related to this sirup. The A side of the single features two songs by Chuck Berry and Joe Cocker, the B side is a long description of the competition and its rules. It starts with the announcer singing Roll Over Beethoven several times. Then he tells that you need to send in your images to win an Atari play computer or a T-Shirt. My Dutch is not that good to understand everything he says, but I think the deadline is in 1985. So I would understand the record number 84... as to be the year of production.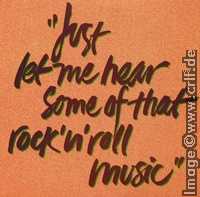 A completely different kind of promotional album is this two-LP set, not really a Chuck Berry album in its direct sense but related to Chuck Berry in many ways. First, it contains 23 Chuck Berry songs, 19 recorded by Berry himself plus 8 Berry songs recorded by other artists such as Johnny Rivers, Ronnie Hawkins, Rod Steward, Elvis Presley, or the Beach Boys. And yes I know that the math does not work, but indeed some of the songs are on this set sung twice by both Berry and some other singer. And secondly, this album's cover shows nothing more than the line "Just let me hear some of that rock'n'roll music" which as we all know is a Chuck Berry quote.
The album was produced by The Goodman Group Music Publishers in 1979 and not produced for radio broadcast nor was it a give-away to listeners. The Goodman Group is a group of music publishing companies which was under supervision of Gene Goodman (brother of band leader Benny) until Marshall Chess (son of Leonard Chess) took over the business after Goodman retired. Along with the Chess Brothers, Goodman and his brother Harry in August 1953 formed Arc Music Publishing which owned and used the copyrights of all of the material coming out of Chess Records, including Berry's — and still does today.
Like other publishers, the Goodman Group presented their catalogue to the industry not only in writing, but also on records such as this. "This two-record compilation contains excerpts from 100 of our most successful copyrights, along with a summary of chart activity" wrote Gene Goodman on the back of this set. And indeed there are 100 well-known songs included, all in recordings by their original artists or in famous cover versions by e.g. the Beatles or CCR.
All songs come in excerpts of a minute or a half, sometimes as a combination of multiple recordings. So you hear Berry start with Back in the U.S.A. until Linda Ronstadt takes over after the first verse. It's quite funny to listen to this collage, especially because it is not in chronological but in alphabetical order (by song title). Usually the better-known versions are included, such as Rod Steward singing Sweet Little Rock And Roller instead of Berry. Sometimes the better-known versions seem to have been out of reach, such as with Around and Around which is not sung by the Stones but by Berry himself.
Similar to this is the CD The ARC Classics (ARC Music Group ARC CB 0402, 2004) created by Arc Music Publishing in 2004. Here you find complete recordings by Chuck Berry as well as cover versions by The Groovie Ghoulies, Emmylou Harris, Carson City Playboys, Dr. Feelgood, Taj Mahal, and Nina Simone. Additionally the CD contains the single Chuck Berry song not recorded by himself: Hey Good Looking was written for and performed by Bo Diddley. What makes the item of highest interest to the Chuck Berry collector are two recordings from Chuck's Chess era: Adulteen and I'm in the Twilight Zone (incorrectly listed as "I'm in the Danger Zone") had both been recorded in the early 1960s but were never released except on this CD. Adulteen was later included in the 4-CD set You Never Can Tell - His Complete Chess Recordings 1960-1966 (HIP-O-Select B0012485-02). I'm In The Twilight Zone had to wait for an official release until 2014 when it became part of the Bear Family 16-CD set Rock And Roll Music - Any Old Way You Choose It (Bear Family BCD 17273 PL, 2014)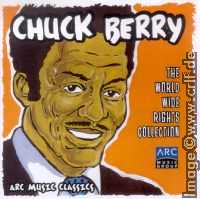 Internal Test Records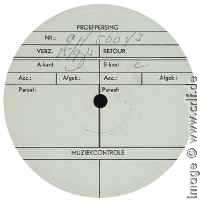 Sometimes records show up which should have never been made available to people outside the record company at all. For instance I have a copy of DINO 12CHUCK1 (that is the 12″ maxi single having a medley of nine Berry hits) which has an absolutely white label and cover. Doesn't make much sense to show it here. But also the record shown to the left is of such a type. It is Dutch and I pretty much believe it stems from the Polygram pressing plant at Baarn, the Netherlands, which produced the Chess label records for distribution in the Netherlands, Germany, and other parts of Europe. The label says "Proefpersing", i.e. Check Pressing. The number is CH 50043 which is the US catalog number of Chuck Berry's Bio album of 1973. From the label we can see that this test pressing of Bio was made or checked on September 25, 1973. Both A and B side were checked and approved. The print and signatures are on side A only. Side B has a completely blank white label. An interesting question is how such an internal test sample somehow made it to the record collectors market.
Similar white label test pressings are known from France and Germany as well. Here it is not clear, though, whether these are DJ copies or internal records. Both don't have any printed or typewriter titles but just some handwritten notes which are obviously unrelated and added by a later owner. I removed those from the scans below. If you know anything about these records, let me know!
---