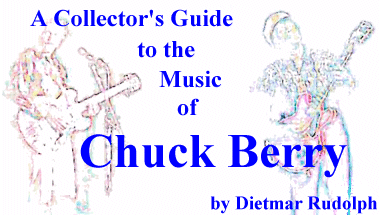 Discography — Bibliography — Blog — Database
Jack Wiener and the Sheldon Recording Studios
Sheldon is a famous name for record collectors. This is because a number of very good 1950s and 1960s records by artists as diverse as Chuck Berry and Johnny Cash, Frankie Ford and Boudleaux Bryant, Pee Wee Kershaw and Lightnin' Slim, Bruce Channel and the Angelic Gospel Singers bear a tiny two-millimeter sized stamp of this name in script font. Records with this stamp are considered to be genuine and of highest quality but other than that, up to now, very little is known about the Sheldon stamp.
So this is the story of the Sheldon Recording Studios out of Chicago and concurrently it is the story of Jack Sheldon Wiener who built and ran these studios.
The Genius in the Sound Room
Jack Wiener and the Sheldon Recording Studios
by Dietmar Rudolph
Browsing the Internet or the usual books on Chicago Blues you won't find much about Jack Wiener. This is partly due to the much more prominent co-owners of the studios who were the legendary Chess brothers Leonard (1917-1969) and Phil (1921-2016). Also it is partly due to the fact that Wiener's name is often mis-spelled as Jack "Weiner". Or as Down Beat magazine puts it:
"Jack Wiener is a young man who has more difficulty getting persons to spell his name correctly than he has had in mastering the complexities in his field — sound engineering." ("A Young Man's Fancy", Down Beat, 19 September 1957)
Sheldon Electronics
Jack Sheldon Wiener was born on July 2, 1935 in Chicago. His father Frank, a Russian Jew, was a shoe salesman whose family had fled the Russian Revolution. Jack's mother Adele, a Lithuanian catholic, was the daughter of a Pennsylvanian coal miner and worked in local manufacturing factories. Jack and his younger brother Bob (Robert E. Wiener) became interested early in the art and engineering of sound recording and sound reproduction.
While still in High School, Jack Wiener went to work for Stanley White's White Sound, Inc., Chicago in June 1951. Stanley White is also one of the long forgotten heroes of sound engineering with multiple patents and lots of inventions to his name. See 'Stan White: An Overlooked Visionary' by Bill Leebens.
White Sound, Inc. built and sold amplifier circuits as well as high-fidelity and expensive cabinet speakers.
So did Wiener. In the early 1950s Jack Wiener started to use his middle name as a brand name for his work. Under the name of Sheldon Electronics, Wiener manufactured speakers of higher fidelity than anything readily available at the time.
White Sound, Inc. ceased to exist in May 1953. White lost his business to Hollywood actor Eddie Bracken and now operated as "Stan White, Inc., a division of Eddie Bracken Enterprises". Wiener left to work for one of White's major clients, Bill Putnam.
Recording at Universal and Master Recorders
Milton T. (Bill) Putnam had founded Universal Recording Corp. in 1946. Wiener joined Universal in June 1953. While concurrently attending courses at Wright Jr. College and the Illinois Institute of Technology, Wiener started as a "maintenance-type youngster", as he recalled in a phone interview with Susan Schmidt-Horning. He continued to study sound processing. At Universal, Wiener not only learned everything about building the perfect recording studio, he also helped supervising recording sessions held at the Universal studios on 111 E. Ontario St. for many independent labels.
Another main job at Universal for Wiener was to master recordings made in the Universal studios or sent in from independent studios nationwide. Mastering was an important step in record production in which the recorded sounds were modified to fit to the frequencies available on records and playback equipment. Mastering was what made the records sound good in the end.
Wiener was assigned to some of Universal's major clients such as Chess, Randy Wood's Dot and Sam Phillips' Sun, who all had special requirements for their records such as being "hot". To Nadine Cohodas Wiener recalled: "Randy said to me: 'Jack, if you can give me a record that they can hear in the back seat of a convertible going 40 miles an hour down a country road, I've got a hit.' So we started trying to drive the corded levels higher and higher."
Sam Phillips would always include little messages with his tapes on how he wanted those mastered. "Give me 'hot' level on both 78 and 45's and as much presence peak and bass as possible!" (written on tape box as shown in "Sam Phillips: The Man Who Invented Rock 'n' Roll", Peter Guralnick, 2015) At one time, Wiener remembers when talking to Schmidt-Horning, he listened to a tape and burst out laughing. He called in the other record men to hear it: "Here's a white guy trying to sound like a black." Wiener recalls: "I just laughed and I called Sam saying you're not serious about that. He said it's a demo and the kid got something. So we mastered it. It was That's All Right (Mama). I mastered everything for Sam." Wiener may be mistaken here, as according to Guralnick, Elvis' fifth and last single "Mystery Train" was the first to be mastered by Universal. Another Elvis story Wiener remembered was about a radio interview with Sam Phillips and Elvis Presley. The interview was recorded, but was deemed too short for the station's liking. Wiener ended up "doctoring" the responses, as per the client's requirements, to create a multi-hour interview. One which created a mob outside the station even though Elvis wasn't there.
Wiener's job was primarily mastering the "race" records, and this usually by night, he told Nadine Cohodas in 1997. Another main job was to "doctor" the tapes independent studios such as Chess would bring to Universal. This meant for instance cutting and splicing songs which ran up to 15 minutes to create a record-compatible length and a proper ending.
Among the independents handled by Universal was the Chess company. They had a small recording studio next to their offices at 4750 S. Cottage Grove Av. but it was only used for demoing as the sound quality was too bad for commercial release. Leonard and Phil Chess became interested in creating a high-quality recording studio themselves to become free of Universal's involvement. They considered Jack Wiener would be the perfect engineer to create this studio.
However, Wiener had left Chicago. At Universal he had served as an account executive for one of their major clients, Dot Records, run by Randolph "Randy" Wood (1917-2011). Dot moved from Tennessee to Hollywood to take over Capitol's old offices at Sunset and Vine. This included changing recording studios. Instead of using Universal, Wood now had his artists such as Pat Boone record at Master Recorders in Hollywood. Wood talked Wiener into moving to Hollywood as well. So recommended by Dot's chief engineer Ben Jordan, in April 1956 Wiener joined Abe "Bunny" Robyn's team at Master Recorders. In 1957 Wood also talked Bill Putnam into moving to Hollywood where he bought Master Recorders while his new United Recording Studios were being built.
After just two months Wiener returned to Chicago in June 1956 when his father Frank had a heart attack. Recordings made during his time at Master Recorders include Pat Boone's Anastasia. There were also sessions by Lloyd Price and Little Richard for Speciality as well as Fats Domino for Imperial, however it's not known whether Wiener had anything to do with those.
Building 2120 South Michigan Avenue
When Wiener returned to Chicago, the Chess brothers had found a new place to stay. 2120 S. Michigan Av. was to become one of the most important addresses in the history of recording.
The two-story building, originally built in 1911, was to contain the Chess's offices, storage rooms for records, covers, labels and boxes, plus a full-scale recording studio. Leonard and Phil offered Wiener a contract, but they didn't just hire the young engineer. Instead they offered him a joint partnership to fund the construction of the studio. Wiener would become a one-third co-owner. He was to run the studio business completely on his own. To pay for his share he was allowed to run sessions for other record companies.
At the end of January 1957 Cash Box reported that "moving day is right around the corner", however, due to health problems Len Chess was out of the project for almost two months. The renovation of the old building turned out to be much more work than expected, but it gave Jack Wiener time to create a state-of-the-art recording studio with an audition room, a recording room and an elevated control room. Two unused rooms in the basement below the Chess offices were sound-locked and became echo chambers by just containing a speaker at one end and a high-class microphone at the other. Wiener told Down Beat the reason for this: "I have an identical pair of chambers, in terms of construction, equipment, and sound, which makes for precise sound reproduction."
Wiener by himself built the twelve-channel control console utilizing plug-in modules by Universal for easy maintenance. "Maintenance is important to prevent breakdowns during sessions," Wiener explained. A twelve-channel console meant twelve channels to receive and mix to a single output signal captured on tape. Technology in 1957 did not allow to separately store the twelve channels and mix them later. The system was designed as a double mono system so recording could be done either in mono or in stereo.
"I'm set up for stereo, too. I took a fine monaural system and doubled it, exactly, so I know that the equipment is best in both monaural and binaural categories. I don't like the gimmick effect so often obtained on stereo, those definitely split systems, with the horns here and the rhythm section there. I'm going to strive for actual, full-dimensional sound. Stereo will lose its allure as a gimmick in time, but it has validity. Eventually, I feel, it will replace most of today's big-band recordings. It seems to me that its effect is limited in small-group recording, but it is extremely effective with large orchestras, where there is genuine depth to be achieved." (Down Beat, Sept. 19, 1957)
When presented with the building initially, Wiener was all but confident. "A lousy choice," he is quoted in Nadine Cohodas excellent book about Chess, "too small and too narrow". In contrast to the architect's plans, Wiener completely redesigned the layout of the second floor. Where the architect had placed the control booth directly at the windowed wall facing the street, Wiener inserted a mastering room as a noise buffer. The mastering room was equipped with a Scully mastering lathe with Gotham Grampian cutting heads "designed by recording engineers for recording engineers". According to Kandalyn Lu Hahn, to deter vibrations, a concrete base had been poured at the north end of the mastering room and the master lathe had been installed into the base. A metal tube protruded from the base through which etching debris was sucked to a vacuum in the basement.
The original wooden floor was covered with two inches of cork and another two inches of concrete. Likewise Wiener designed the walls to float on resilient springs for complete sound isolation. To avoid anything coming loose and rattling in the walls, Wiener made sure that as little metal as possible was used in building and insulating the walls.
Later Chess engineer Ron Malo remembered: "Chess Records' 2120 South Michigan Studios acoustically was a good studio. It had a poured concrete floor over 2 inches of cork — the floor was floating — and multiple Pyro walls. Pyro is hollow poured plaster in 4-inch-thick blocks about 1 foot by 4 feet, or so. You would build two of these walls and separate them by air space. On the inner surfaces you mounted spring clips and then attached gypsum board to the clips. You then had a spring wall for low-frequency absorption, while on the inner surface you just built some fiberglass traps, or something like that. Most of the RCA studios were built that way." (Modern Recording & Music, Vol. 6, No. 12, Sept. 1981)
To further sound-lock the studio, Wiener inserted an office room for himself and a corridor between the studio room and the rehearsal room which in the original design had shared a common wall. Only high-class gear was purchased. "Our tape machines are Ampex, which are the most flexible, serviceable machines made today." The remaining equipment came from well-known manufacturers such as Gates and Fairchild or were custom-built for the studio.
"This setup meets the best standards of independent studio facilities. I hope to stick with one large studio, too, because the market seems to be set on small groups. Perhaps we'll add a dialog booth for commercial announcement work, but we don't contemplate changing the present studio layout."
Again Ron Malo: "You know, the studio at 2120 was an exceptional piece of engineering. It was a room within a room, adjustable walls, state of the art microphones, and so on." (Liner notes to the box set Chess Blues)
It took until May 18th for Phil to announce "We're finally moving." They hoped to be in the new quarters "within the next two weeks". An ad in the May 20th issue of Billboard was the first to officially announce the new address. On June 1st Cash Box' R&B Ramblings section related the studio's new name:
"Congrats to Jack Wiener in the completion of his new studios up over Chess/Checker/Argo's new Boul, Mich. Offices. "That's Sheldon Recording Studio", the verra [sic] happy and surprisingly young exec added."
The same week's issue of Billboard put it this way:
"The second floor of the layout has been rented to the Sheldon Recording Studios, under the management of Jack Wiener, who will do all the disking for both Chess and Checker as well as outside accounts. The studios contain what is considered the most modern and functional set of matched echo chambers around. Chess has assured the trade that the great and familiar Chess sound will be only the better as a result."
To Down Beat Wiener explained:
"My product is competitively priced, not underpriced. No cut-rate deals here, only quality."
Recording at 2120 South Michigan Avenue
The Sheldon Recording Studios operated as a separate business entity. While the store-front displayed the sign "Chess Producing Corp.", the back door, which was the entrance for the artists, was labelled "Sheldon Recording Studios".
Within the first weeks, Little Walter, Howlin' Wolf and the Moonglows were recorded at 2120. Wiener stayed busy and up to January 1958 Cash Box reported on sessions for Mercury (The Gaylords), Sun (Johnny Cash), and Cosmic (Mark IV). In addition Wiener, of course, recorded all the Chess/Checker/Argo artists such as Chuck Berry (Sweet Little Sixteen), Jimmy McCracklin (The Walk), Debbie Dean (as Penny Smith), Dale Hawkins, Sonny Boy Williamson, Pat and the Satellites, Paul Gonsalves, Clark Terry, Max Roach, Billy Taylor, Chet Roble and so on.
Jack Wiener recorded the sessions, mixed the input, did all the post-processing and created lacquers and master disks for the pressing plants. According to Jack's son Jason, the mastering room behind the windows facing South Michigan Avenue was equipped with all the necessary machinery to create nickel masters.
Just before the Down Beat interview, Wiener had recorded the Coasters for Atco. "Right now, I'm doing most of the work myself," he said. "For example, I engineered the entire Atlantic session, from start to finish."
Some sources talk about Sheldon as a record pressing plant for Chess. This is incorrect, though. There were no presses at 2120. Instead, with the move to the new headquarters, the old offices at 4750 S. Cottage Grove Av. were rebuilt to form a state-of-the-art pressing plant first called "Dunn Record Pressing, Inc.", then "Midwest Record Pressing, Inc.", both run by Chess employee and later co-owner James Gann.
Acetates from the Sheldon studios had a company label with type-written song and artist name. Commercial labels of records made by Sheldon usually had no indication of their origin. The Sheldon stamp which was to become famous later was not used during the time Wiener worked at 2120 S. Michigan.
Interestingly, early albums made by the Chess companies did name the studio. LP-1427 (Muddy Waters, on Chess), LP-1428 (Little Walter, on Chess), LP-1429 (Dale Hawkins, on Argo) and LP-1432 (Chuck Berry, on Chess) all had "Sheldon Recording Studios, Inc." printed in large letters on their back covers. Other albums (LPs 1430 by the Moonglows and 1431 by Bo Diddley) did not, probably because they were recorded elsewhere.
Wiener spent a lot of effort absorbing the surrounding noise which came from Michigan Avenue. This included insulated floor and walls as well as nine adjustable sound panels to suppress unwanted echoes, to control resonance, and to isolate instruments during recording.
"When closed, they present a hard, exposed surface; when opened they offer a surface that possesses a 90 percent absorptive quality. When all panels are closed, the size of the room, for sound purposes is increased by 250 percent. With all panels open, the effect is a reduction in sound reaction to one-third its normal size. There are no parallel surfaces in the room." (Wiener in Down Beat, Sept. 19, 1957)
Rock and roll singer and guitarist, Ronald D. "Ronnie" Haig remembers a session from February 18, 1958 in the Sheldon Studios cut for Note Records:
"The room was awesome. Low ceiling was all acoustic tile, and the floor was 12 inch rubber tiles. Everything was miked and ran into a hole just below the [control room] window and into a giant mixing board. From that board, one single wire went to the Ampex Half Track Recorder which had been altered with a capstan that made the recording tape travel at 15 inches per second. Travelling at that speed you would never miss those crispy sounds of natural highs of the instruments. There were NO muddy recordings that came out of Chess.
"In one corner at the far end of the room was a grand piano, and right across from it in the other corner was a complete set of drums. Along the wall opposite the entry doors were several baffle-like shutters that could be opened to tune the room. That was perfect for the twin saxes we would be using.
"In the middle of the room was where the stand up bass would be. Next to him was a chair for the rhythm guitar player. Me, I would be perched on a wooden stool in front of the bass and rhythm guitar. I played my own lead work. Jack Wiener, the engineer, was a genius to say the least. I've been in many studios throughout my career, none have even come close to that of Chess.
"The genius in the sound room attached two alligator clips to the speaker wires in the back of my amp. He also placed a mike in front — right up next to the grill cloth. He mixed the two sounds and whew! it was beautiful. The "Five Stars" stood up front right below the sound room window and sang through one mike. Now, if you imagine all these wires all over the floor and heading for that hole leading to the mixing board, it was a mess; and you'd best not trip over them. They were all color coded so the engineer would know who was what etc.
"The session began at midnight and went to 6:00 AM. I must say — that first night, I got a college education during those 6 hours. You'd better have your act together, because the engineer grabbed all that music and mixed it on the way to the tape recorder. One shot — and that's it. Hard to forgive a drummer who dropped a stick on an otherwise perfect recording. Or Me either if I dropped my pick or screwed up my lyrics. It all went down at the same time back then. Everything. That's just the way it was. We cut my first song "Don't You Hear Me Calling Baby" a total of 18 times. Whew! By the time we left there, I hated that song, but I loved the recording."
In March 1958 Cash Box published a photo from inside the Sheldon Studios taken during the November 4th, 1957 session for "I'm Entitled To You" (ARGO LP 625) by Chubby Jackson's Big Band. A similar photo is used for Don Bronstein's cover of the resulting album. Both photos show how many people could be jammed into the 37'x20' studio room. There were eighteen musicians present at the session, not counting the technical and business people. "Jack Wiener is seated at extreme right, supervising the session" writes Cash Box.
Early in 1958 Wiener produced an advertising disc for his studio. You can listen to this single-sided promotional record on Youtube at https://www.youtube.com/watch?v=enfRiKu9RIE. Chicago DJ Jim Lounsbury announces Sheldon's services and facilities. The promo also contains samples from Sheldon recordings by the Mark IV, by Chuck Berry, and by a Jazz orchestra. Chuck Berry's recording of Reelin' and Rockin' is taken directly from the session tapes as it includes the "Take 10" announcement spoken probably by Wiener.
Army Service and Playboy
In July 1958 Wiener and the Chess brothers redefined their partnership. Wiener was drafted and joined the Fifth Army in August. Recording activities for the following year were to be supervised by Wiener's old colleague from Universal, Malcolm Chisholm (1929-2003). The recording studios were renamed "Ter-Mar Recording Studios", while the name "Sheldon Recording Studios" stayed with Wiener. "Ter-Mar" stands for Terry and Marshall Chess, the sons of Phil and Leonard, as it does in "Marterry Records", the initial name of the ARGO sub-label.
When talking to Tim Samuelson about the 2120 history, Wiener remembered that the breakup with the Chess Brothers was acrimonious. There was dispute over who owned what in the studio and who had paid for it. He ended up coming to the studio on a weekend when nobody was around and hauled out equipment that he felt was rightfully his.
Starting January 1959, Wiener worked for the Audio-Visual Branch of the Information Service at the Fifth Army Headquarters in Chicago. Specialist Fourth Grade Wiener continued to do what he could do best. He designed equipment to automate the duplication of language tapes for the G-1 Education Division. In charge of broadcast recording Wiener greatly improved the technical quality of the fifteen-minute radio program "Star Time". Information Section Chief Col. Slisher praised him: "Having brought up to professional broadcast standards, Star Time is now scheduled on the number one radio station in Chicago in prime class A time. The program is now being carried over more than 70 radio stations in the Fifth Army area constituting an increase of 45 per cent more coverage since specialist Wiener's association with the program."
While in the Army, Hugh Hefner asked him to document the first of the annual Playboy Jazz Festivals. On August 7 to 9, 1959 Wiener recorded 19 hours of live Jazz at the Chicago Stadium. He edited the recordings to create enough half-hour programs for a 26-week radio series. The AFRTS (Armed Forces Radio and Television Service) reproduced and distributed the "This Is Jazz" shows world-wide including short-wave transmission behind the Iron Curtain. The festival included performances by Count Basie, Ella Fitzgerald, Oscar Peterson, Miles Davis and many other great jazz artists. Some of these recordings made it onto the 3-disc set "The Playboy Jazz All-Stars, Volume 3" (Playboy Records PB 1959, 1960) and other records.
Wiener might to have also worked on the fake "live" album "Lisa Kirk Sings At The Plaza" (MGM E3737, 1959). At least he is pictured with the artist in the March 21, 1959 issue of Cash Box magazine. A report on a party held at Chicago's Palmer House to celebrate the release of this album includes a photo of Ms. Kirk along with MGM's Lou Powers and "Fifth Army recording engineer Jack Weiner [sic]".
Mastering the hits
During Jack Wiener's time working as a recording engineer at the Army, Sheldon Recording Studios, Inc. was reduced to mastering and tape duplication. His brother Bob as well as their parents kept the business running. Wiener had taken with him all the electronics and mastering equipment previously installed at 2120. Jack and Bob continued to do the mastering for the Chess labels as well as for other companies such as Sun.
From now on, all lacquers made by Wiener's company were marked with the tiny Sheldon stamp. In the Chess series, catalog number 1697 ("Beautiful Delilah" by Chuck Berry, recorded and released mid June 1958) was the last without the stamp. The next release Chess 1698 ("Oh Oh" by Eddie Bo) was the first bearing the stamp.
The Sheldon Recording Studios now operated from 6742 N. Trumbull Avenue, Chicago, which basically was a garage next to Wiener's parents house in Lincolnwood. In the summer of 1959 Wiener placed several ads in Cash Box and the July 11 issue had a small article about Wiener's services. Jack Wiener offers his lacquer mastering facilities to independent recording studios at a discounted rate, taking master tapes and providing the lacquer masters directly to the pressing plant. "This plan will be a boon to the medium size recording studios and radio stations in helping them to compete with the larger studios."
Just three weeks later Cash Box reported that the "Sheldon mastering plan gets good reception":
"The Chicago studios have received an overwhelming number of replies from indies and stations. Sheldon plans to assign mastering franchises to 25 or 30 independent studios and radio stations. This franchise will give the small studio an opportunity to accept mastering orders and return top quality work to their clients, even though they do not have the equipment or technical know-how. Under the plan, franchise studios will send all tapes to Sheldon's Chicago lacquer mastering division. The independent will receive a special discount rate to allow him a chance to make a profit and the quality of the masters will be the same as that given to Sheldon's major label clients. If the independent wants, Sheldon will handle all shipping and pressing arrangements."
According to Wiener's memory, at that time there were basically just three mastering places in the whole country to whom all the independent record companies sent their tapes: Sheldon, Universal and Mercury. Wiener was proud to be one of these "favorite engineers".
Sheldon Recording Studios continued to master recordings from large and small independent labels. For instance he did all the work for Sam Phillips' Sun and Phillips International labels, e.g. the album "Johnny Cash Sings The Songs That Made Him Famous" (SUN SLP-1235).
Another example is ACE records, for whom Wiener mastered the album "Let's Take A Sea Cruise With Frankie Ford" (1959) and other releases. Wiener mastered some of the last recordings from Cobra Records recorded by Willie Dixon. He mastered several records from Roy Acuff's Hickory label. And, of course, Wiener engineered a lot of, probably most, Chess releases.
A 1961 client list included more than 200 companies Sheldon was working for, mostly record labels from Ace to Vee-Jay but also radio and TV stations as well as advertising agencies. With the huge list of clients, it's no wonder in a July 1959 ad in Cash Box, Wiener proudly claimed "Best in Mastering: More hits on charts than any other independent studio".
Working in Memphis
Shortly before joining the Army, Jack Wiener contracted for another major job. Sam Phillips (1923-2003) of Sun Records asked Jack Wiener to come to Memphis and advise on building the recording studios for his newly acquired Sam C. Phillips Recording Service at 639 Madison Ave.
In June 1958 Wiener and Phillips agreed to have Sheldon Recording Studios, i.e. Wiener, consult on the audio equipment, specify the items and have these built according to his specifications. The technical build-out was to include a four-track recorder and two single-track machines arranged in a futuristic V-shape design. As with the studios at 2120, much of the gear was made from modules, built by Bill Putnam per Wiener's specification.
Barbara Barnes, by today's standards the PR manager of Sun at the time, remembers meeting Wiener in April at the MOA (Music Operators of America) conference in Chicago:
"He looked even younger than he was, but cute. He had a very direct, some would say aggressive, manner, which in Memphis came off as a lack of manners at times. But we got along fine." (Barbara Barnes Sims, "The Next Elvis: Searching For Stardom At Sun Records", 2014)
In April 1959 Sam Phillips had announced to the press that the studio would be ready by summer. However, behind the scenes Phillips didn't seem to be satisfied with the building which had a leaking roof and untamed acoustics. It's obvious that Wiener had nothing to do with the physical construction of the studio rooms. Parallel and perpendicular walls in a studio were a no-no for a sound expert like him.
In February 1960 Sun/Phillips moved to the new location. The first recording session on February 22 featured Sun artist Carl Mann. However, Phillips continued to complain about the customized four-channel mixing board Wiener had built. Wiener kept coming down from Chicago trying to correct the problems.
Finally the studio officially opened in September 1960. To the press, Phillips proudly reported to have "the latest in recording equipment, custom made, to handle commercial demands for years to come: two studios, two control rooms, equipment for both monophonic and stereophonic mastering, an editing room and three sound chambers. Two German-made Neumann lathes for cutting masters represent an investment of nearly $65,000."
Colin Escott quotes Phillips telling Edwin Howard enthusiastically about "all the electronic devices, built-in high and low frequency equalization and attenuation, echoes, channel splitting and metering on everything." (Colin Escott/Martin Hawkins, "Good Rockin' Tonight", 1991) In the end, however, Phillips continued working the way he had learned in the old days, premixing the channels through the sound board to the single-track machine.
Echo Recording Studios
While in Memphis, Wiener socialized with fellow local record men. Sun session musicians Stanley Kesler and Clyde Leoppard had started their own business with a small recording studio. The studio operated as "L&K Recording Service" and was initially located at 65 N. Main St.
In March 1959 Sam Phillips fired Jack Clement, who had produced many of Sun's sessions since 1957, e.g. those by Johnny Cash, Roy Orbison, and Jerry Lee Lewis. Jack Clement stayed in Memphis and formed his own Summer Records label, another of Sheldon's clients. In April 1959 Clement became a partner in L&K.
In March 1960 Jack Wiener bought a 50% stake in the L&K studio business whereas Clement, Kesler and Leoppard shared the remaining 50%. They moved to larger premises at 13 N. Manassas Street. Wiener did not record there but supported them financially and with materials and resources from Chicago. Again Wiener's job was to create a recording console which was to be rented by the new corporation. The studio was rebranded "Echo Recording Studios" using the same style logo as Sheldon.
Shortly after Wiener's engagement, Clement moved to Nashville for some months to work for RCA. With Clement gone and Wiener still working day-by-day at the Army Headquarters, the Memphis studio didn't work well. Echo Recording Studios closed in January 1961. Wiener purchased some of the assets and the entity dissolved. Stan Kesler continued to operate from 13 N. Manassas Street with his Pen and XL labels.
As more and more record labels became able to do the mastering on their own, Jack Wiener started to return to recording. Wiener's off-site mastering for Sun/Phillips ended in January 1960 and also his association with Chess must have ended sometime in 1960/1961. This is the time when Malcolm Chisholm moved to Hollywood to join his old boss Bill Putnam at United Recording. At Chess, Ron Malo replaced Chisholm. Since then there were no more Chess records containing the Sheldon stamp released. Chess lacquers now came from Ter-Mar directly. They even re-used the Sheldon label design for their acetates.
Recording Chicago locals and inventing new record uses
In September 1960 Jack Wiener had finished his Army duties as well as his Memphis jobs. He returned to work full-time at Sheldon Recording Studios, Inc.
Since the garage at Trumbull Avenue was too small for all the business waiting, Wiener started to search for a larger place. He found 1725 N. Wells St. in Chicago.
Within two years, Wiener built yet another recording studio, this time for himself. And Sheldon Recording Studios, Inc. was to become a full-service company. At Wells, Wiener not only had a full-size (45' x 35') studio complete with vocal booth and control room. The building also had everything else needed to finish a record: mastering equipment, presses for 7" and 12" records, even label printing and packaging. 48 hours from recording to sale, promised a promo mailer.
From October 1962 onwards the official address of the Sheldon Recording Studios was at 1725 N. Wells St., Chicago.
The address can be found on labels of pre-release pressings or lacquers for singles such as "Never Ever Leave Me" by Joe Hunter and Dave Hamilton made for the Mickay's label in Detroit, "Let Me Down Easy" by The Condors for Toddlin' Town Records in Chicago, "Lighten-Up Slim" by The Glitters for Rubáiyát Records, or "Bash'ful" by The Softiques (not released at that time).
But as Sheldon now could also print labels for their clients, most records created at Wells can only be identified by the tiny Sheldon stamp, if any. Many records from Ernie Young's Nashboro (Gospel), Excello (Pop), and Nasco (R&B) labels have been created here. Other recordings said to have been recorded at the Sheldon Studios on N. Wells St. are "She Cares" by Rod And The Satalites (Irish Records, 1965) and "Destination Lonely" by The Huns (Rock n' Jazz Records, 1966).
Besides music, Wiener recorded for radio and TV as well as for advertising companies.
Some of the records Wiener recorded, mastered, and pressed for smaller and local labels such as Trace, Princess, Coin, D, Van, Profile, Fortune, K-ARK, Tifco, Venus, Hall-Way, Beaver, Glenn, Trio, Northern, Ridgecrest, Snap, Bandera, Hall, Token, Pink, Cover, Formal, D-Town, or Circle C not only had the Sheldon stamp in their dead wax area, they also had a Sheldon master number starting with "S-". These are often DJ copies or samples. The Sheldon stamp is said to be also found on promotional copies from ABC-Paramount Records.
Around 1966 Wiener created the only 12" LP album published under the Sheldon Recording Studios, Inc's. own logo. The album comes in a completely designed multi-color cover having an artist's photo and liner notes. However, it is to be doubted that this record was ever released commercially. "Most People Just Leave A Tip" by David Romaine, his violin and orchestra (Sheldon S-5171) is kind of a re-issue of an album originally released by Mercury Records as "It's Just The Gypsy In My Soul" (mono version MG-20361, 1958, stereo version SR-60032, 1959). David Romaine Bohme was a gypsy violinist and composer who played with the Philharmonic of Chicago and Chicago Symphony Orchestra as well as behind Rosemary Clooney and Bing Crosby. According to his son Alan Bohme, David Romaine was also heard on the Chicago radio station, WLS, the Prairie Farmer station, and he was Fiddlin' Dave on WGN's Dawn Busters show.
The recordings on the Sheldon album are exactly the same as on the Mercury mono album, though in a slightly different order. Also the liner notes on the Sheldon album are exactly the same as on the Mercury album. There is one paragraph added listing Romaine's 1960's work:
"He has made guest appearances on many tv shows, including The Ed Sullivan Show and Hollywood Palace and spent two years on the popular International Cafe show. For the past several years he has been musical director of the College Inn at Chicago's Sherman House."
The Mercury album cover for the stereo version, one of the first mass-produced stereo records at all, came with a description of the recording process explaining which microphones were used to record which instrument and where they were placed. Wiener made a reference to this by adding the following note to the HI-FI Information section on the back cover:
"Because of the fine technical personnel and equipment used in the recording of the masters for this album, one is assured of the most faithfull [sic] reproduction in the transfer from the original recordings to the final masters used for pressing."
It's not known whether the album was sold to the public in this form. It may have been a small quantity produced item for David Romaine's personal or business use.
During the years 1965 to 1967, Wiener invented both a continuously repeating record player and the "Sheldon Card".
The "Sheldon Card" was a postcard-size cardboard envelope containing a 30 seconds recorded message. When opened, the envelope automatically folded up to form a disposable record player complete with record, needle, tone arm and "speaker". To turn the record, you put a pencil or ball point pen into a hole in the record. Jack Wiener was awarded US Patent 3,415,526 for this "Sound Emitting Device" in May 1967. It is unknown whether commercial "Sheldon Cards" have ever been produced, sold or shipped. The patent for a "continuously recycling message transmitting system" (US patent 3,419,278 A) was filed even earlier in October 1965 but granted by the end of 1968. This patent describes a record player which could automatically repeat a recorded message continuously, e.g. for a telephone weather report.
The 1969 and 1970 record studio directories in Billboard and Cash Box finally list Sheldon Recording Studios at 211 E. Grand, Chicago. The latest record mastered by Wiener and containing the Sheldon stamp seems to be a single-sided promotional album for the Joseph Schlitz Brewing Co. of Milwaukee, Wisconsin, named "The Encore Sound of 1970".
Going TV and digital
By the end of the 1960s, Wiener sought more stability in his life. Now having a family with small children, he went to work for CBS (Channel 2, Chicago) to record TV sound for newsreel. His brother Bob went to NBC as a camera man. Still using the Sheldon Recording Studios name, the 1968 to 1971 company directories in Business Screen described Jack Wiener's services as follows:
"TV sound recording; sound recorded on Ampex Broadcast Video tape (two-inch quadriplex) providing full time base stability for all special effects, edits, inserts, supers, dissolves, etc. Complete technical facilities with engineering personnel and loaner equipment provided. From story boards and rough scripts, test commercial is produced on videotape."
During the 1970s and 1980s, Jack Wiener was still living in Chicago and concentrated on the upcoming computer business by creating hardware and software for broadcasters and recording engineers. He created software for a stable way to read and write SMPTE timecodes used to individually address scenes and frames in video, film, and audio material. Wiener built and sold a series of top-of-the-line time code readers used for motion picture and television production.
The February 1978 issue of Recording Engineer/Producer has a multi-page article by Wiener explaining how minicomputers and microprocessors work and how they affect working in a recording studio. In January 1979 a product info in Broadcast Programming & Production describes Wiener's business as follows:
"J. S. Wiener and Associates, Chicago based consultants offer a wide range of low priced computer packages for broadcasters, covering technical, programming and business applications. Based on the increasingly popular "personal" computing equipment now finding its way into home and businesses, the Chicago based firm unveiled another of its "software" solutions to the high cost of modern technical equipment." [quotes as in original].
In the late 1980s Tim Samuelson of the Chicago Landmarks Division contacted Jack Wiener regarding the preservation of the old studios at 2120 S. Michigan. Tim and Jack spent days going through the old building and discussing the original layout and usage. Jack Wiener was ready and willing to be contracted for the total reconstruction/restoration of the studio. Despite Tim's pleading, the Blues Heaven Foundation (the new owners) were not willing to spend the dollars Jack was asking for his services - which would have also included bringing back some of the original equipment. From their talks, Tim remembers the following anecdote.
"Although he recorded and met many blues and rock'n'roll artists, Jack said he personally didn't care much for the music. He recalled his absolute favourite musician that he recorded - Pinky Winters. I had no idea who this was, but finally found a recording of her. Very pleasant female lounge singer infused with a light swing of jazz. And when we crawled above the dropped ceiling above the first floor offices of 2120, we found boxes and boxes labelled with the Chess address which we hopefully imagined were filled with rare records or masters. In the end, they were all pristine record jackets with no record inside - covers for Pinky Winters' recording." [probably "Lonely One", Argo 604, which for unknown reasons was released with two different covers]
In 1997 Jack Wiener was still active as a consultant to broadcast and recording companies creating electronic press kits (EPKs) when both Nadine Cohodas and Susan Schmidt-Horning interviewed him for their books on Chess Records and on the Art of Studio Recording. The genius at the sound board died on October 19, 1999 from a heart attack.
Acknowledgements
Many people contributed to this article. Jack Wiener's son Jason provided me with photos from the family's collection, documents from his father's files and a lot of personal information. Nadine Cohodas ("Spinning Blues Into Gold: The Chess Brothers and the Legendary Chess Records", St. Martin's Press, 2000) sent me photos from her collection as well as notes from her interviews with Jack Wiener conducted September 17 and 19, 1997. Susan Schmidt-Horning ("Chasing Sound: Technology, Culture, and the Art of Studio Recording from Edison to the LP", Johns Hopkins University Press, 2013) after my inquiry contributed a copy of her interview of January 25, 1997, now part of the Chasing Sound Oral History Project at the Louie B. Nunn Center for Oral History at the University of Kentucky (https://kentuckyoralhistory.org/catalog/xt75qf8jh421). Ronnie Haig's reminiscence of his Sheldon session was initially published on November 25, 2015 at Steve Carr's "Every Record Tells A Story" and is reprinted here with permission by Ronnie. Fellow writers Fred Rothwell, Bruce Pegg, Colin Escott and Peter Guralnick provided help in regard to Wiener's work with Sam Phillips. Bill Leebens, Hermann Ruwwe, Bill Daniels, and Opal Louis Nations helped researching Wiener's connections to Stan White, Dot, and Nashboro. Tim Samuelson of the City of Chicago provided a lot of help regarding the Chess studio and about his discussions with Wiener while trying to rescue 2120. An extremely interesting read about the reconstruction of 2120 S. Michigan is Kandalyn Hahn's M.A. thesis "The Successful Preservation of Rock and Roll Music Sites: Paul McCartney's Childhood Home in Liverpool, England and the Chess Records Office and Studio in Chicago, Illinois" (Cornell University, 2005). Jack Wiener's US patents can be read at https://www.google.com/patents/US3415526 (Sheldon Card) and https://www.google.com/patents/US3419278 (endless record player). A huge list of Sheldon-stamped 45s is available at http://www.45cat.com/45_list_view_record.php?li=1703. Quotes and images from vintage issues of Billboard, Cash Box and Recording Engineer/Producer have been extracted from PDFs preserved by the American Radio History site (http://www.americanradiohistory.com). Images of record labels and covers are from the collections of Morten Reff, Thierry Chanu and myself or have been digitally reconstructed and enhanced from images published on websites such as discogs, youtube or ebay. Many thanks to all contributors.
Dietmar Rudolph, May 2018
[Edit 08.01.2019: Added Ron Malo quote about studio walls and blueprint image.]
---